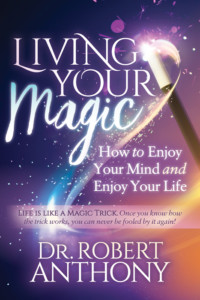 NEW YORK—January 14, 2020—Morgan James's new release, Living Your Magic: How to Enjoy Your Mind and Enjoy Your Life, by Dr. Robert Anthony, lays out how life, when people really look at it, is like a magic trick, with confusing moments of illusion and misdirection. Dr. Robert Anthony is excited to show individuals how to look at life analytically, to understand its misleading elements before a trick can take place. Living Your Magic uses a simple formula to modify a person's thinking so that they may enjoy life to the fullest.
Rather than following the same flawed premise behind almost every self-help, therapeutic, or personal development methodology, Living Your Magic challenges the belief that there is a 'self' in need of fixing. Dr. Robert Anthony claims that the need for self-improvement in order to live a happy and magical life is an illusion. Anthony reveals that everyone has an Inner Creative Genius that can direct them toward joy, if only they would listen and trust its guidance. This mindset will make life easier with less to remember, think about, or accomplish, and it is available to anyone within the pages of Living Your Magic. 
In Living Your Magic, Dr. Robert Anthony shows how anyone can be a magician and shape the illusions around them, rather than allowing the illusions to guide and mold their behavior. He teaches that thinking without awareness is at the root of all human suffering, and uncovers the truth of revolutionary change, explaining that it should not take a long time to develop, but can be achieved immediately, with lasting results. Dr. Robert Anthony is motivated to help others discover that trusting their internal guide is the key to life fulfillment and enjoyment.
If you would like more information about this topic, or to schedule an interview with Dr. Robert Anthony, please call Nickcole Watkins at 516.900.5674
About the Author: Dr. Robert Anthony is a Personal Change Strategist, Entertainer, Hypnotist, and "Mind Magician" with over 30 years' experience in almost every aspect of mind power development. He is also the author of Beyond Positive Thinking and Ultimate Secretes of Total Self Confidence, which have sold over 2 million copies worldwide. Dr. Anthony currently resides in Victoria, Australia
More About This Title: Living Your Magic: How to Enjoy Your Mind and Enjoy Your Life, by Dr. Robert Anythony, will be released by Morgan James Publishing on January 14, 2020. Living Your Magic —ISBN 9781642795073—has 196 pages and is being sold as a trade paperback for $14.95.
About Morgan James Publishing: Morgan James publishes trade quality titles designed to educate, encourage, inspire, or entertain readers with current, consistent, relevant topics that are available everywhere books are sold. (www.MorganJamesPublishing.com)
 # # #